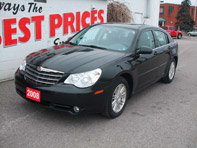 George
My experience purchasing a vehicle from Davey Auto Sales has been extremly satisfying. They worked with me in obtaining a quality vehicle that met my needs and within my budget. After I purchased my vehicle, the engine light came on and the vehicle was reving at 5000 rpm. Davey took the vehicle back and had it repaired with no questions asked.
Brandon of Whitby
Nov 27th, 2008 I recently purchased a beautiful vehicle from Davey Auto Sales. I was very impressed and pleased with the service from all the staff. They made it easy, stress free, and helped me find the perfect vehicle. The car came extremely clean and was running smooth when I picked it up. I greatly appreciate all of your knowledge and help. Thanks again so much, I look forward to doing business again sometime in the future. Brandon S.
Ron from Oshawa
In a time of dishonesty, high prices, and failed promises of service. I purchased a 2006 Jeep Liberty from the Davey Family. Met with honest family values and handshake agreements. The service and fine selection of pre-owned vehicles was refreshing. Don't waste your time with others, The Davey Family will find the vehicle you desire and stand behind it. Fine Vehicles, good service, and honest prices….. Thank you, Ron
Bill and Holly
Approximately 3 months ago my husband and I had to buy an new car. Although we had never been to "Davey's" before, the talk was that they were legit, and so, there we went. Our credit wasn't good, but Jeff's staff fought for us, and we got our new car, well, new to us. There were glitches and problems along the way, but "Davey's" met them all head on. The after purchase service was better still. From a females prospective, a dealer being honest, friendly, and not making me feel inadequate, goes a long way with me. After 3 months, they are still there. Thank you so much Jeff for a pain free and exciting experience. We won't forget you, and anyone needing a hassle free, professional car dealership, really needs to seek you out. Thank you so much. Always, Bill and Holly. Oshawa. P.S. I love my car
Judy from Courtice
I am so happy to have found Davey Auto Sales to buy my car from. I am not an impulse buyer and had been looking for at least a month going from one place to another, where I was either ignored all together or felt that I wasn't being listened to. Glen met my parents and me within minutes of us driving in, and immediately started inquiring how he could help. We test-drove a few cars and he complimented my thoroughness, I still wasn't hooked. He asked me some more questions and then took me right back to look at the Dodge Caliber that I took out for a test drive and fell in love with. I still say to this day that Davey Auto Sales hooked me up with more than I ever thought I would own in a car and in the range I wanted to pay. I can't stop raving about the service and quality I received from beginning to the end of my purchase. Friendly staff, clean cars, attention to detail, customer care, what more could you ask for.
Mircea of Oshawa
I recently purchased a vehicle from DAVEY AUTO SALES. I was impressed with the service from all the staff. It was very easy to find the vehicle I wanted. I highly recommend this company and all the staff.
Jonathon from Whitby
I just wanted to take the time to say thank you for the great service you have provided since my vehicle purchase. If I run into anyone who's looking for a great deal on a car or truck, I'll be sure to send them your way.
Pete from Whitby
I just wanted to let you know that I am very happy with my new used truck. I must say, you and the rest of the Davey Auto Sales team did an amazing job preparing it. The truck looks and runs great and I get complimented on it everywhere I go! Thanks again.
Sue From Oshawa
I would like to Thank-You and your Staff for the wonderful service that you provided for us. We purchased a 2004 Chevy Epica a year ago from you, this past week I experienced some transmission problems, which you took care of without hesitation. I would recommend your Dealership to anyone looking to purchase a vehicle. After one year of owning this car you didn't have to do this for us and we are greatly appreciative. Thanks Again
Curtis of Bowmanville
My first car was a 1946 Ford Coup. Many cars later, some new, some used from different car lots, service was OK at most of these lots, but the car I purchased at Davey Auto Sales was a pleasure. There was no Red Carpet, but all the people were willing to go out of their way, and you got the feeling you were on a Red Carpet, with the service I received, and Glen Davey thanks for going that extra mile for me.
Mark and Cindy of Ajax
After doing an extensive web search for used vehicles, and after talking with many friends and acquaintances, my wife and I decided to look for a vehicle at Davey Auto Sales in Oshawa. From the moment we walked onto the lot I got the feeling we were going to have a positive experience – unlike some of the others we have had before. Everything from the quality of their inventory to the friendliness of their staff was very impressive. The whole experience was hassle free and at no time did we feel pressured into making a deal. Glen and Steve were actually very helpful at assessing our needs as a family and assisting us with our selection. I wanted to buy from a local business and the fact that Davey is a family run business was a bonus. We really did get exceptional treatment and they made our whole family feel valued during our multiple visits to the dealership while we decided on a purchase. Communication was great throughout the deal and in the end we were very happy with our low mileage, extremely clean, and well-priced vehicle. I'm glad we made the visit to Davey Auto Sales! Thanks to Glen, Steve and all the staff for a great automobile buying experience!"
Steven from Whitby
About a month ago, a good friend I work with was telling me about his new car. He had just purchased it from Davey Auto Sales in Oshawa. The car looked great and just like a new one. I was in the market for a new car, so he told me to stop by Davey Auto Sales and have a look. Little did I know that the next day I would be purchasing my very own car from the same place. Davey Auto Sales has great cars for exceptional prices, and you can't go wrong with the service. Very friendly and always helpful to get you driving away with the car of your dreams!
Crystal from Ajax
I needed a new car since my old one was on its way out so I began looking for cars on the internet. I looked at a few websites and called a few places. I came across Davey Auto Sales website and saw some cars that I was interested in. I called Davey Auto Sales for more information and spoke with Glen. He was very helpful; he asked what I was looking for and what I was looking to spend. He informed me that I was able to apply for credit online to see if I was approved for a car loan. Less than a day later he called me to tell me I had been approved, so we made an appointment for me to come in. We looked around the car lot and I found a car that I really liked. We took the car for a test drive and I absolutely loved the car. I noticed the brakes were wearing out and Glen informed me the brakes would be changed. Upon getting back, Glen showed me what I would be paying for the car and discussed the warranty with me. The entire time I did not feel pressured into buying a vehicle like I have felt at other car dealerships. A few days later I picked up the car after the necessary work was done to it. The car was completely cleaned; inside and out. I was very pleased with the condition of the car. Glen from Davey Auto Sales definitely made buying a car a lot more pleasant. I would highly recommend anyone to buy a car from Davey Auto Sales.
Pastor Wayne
Well ladies and gentlemen. What a privilege it was to meet Glen Davey. I was impressed with his manners, his neatness and the respect he had for my wife and I. I have never met a salesman like him, but I was led here by God, so I should not have been surprised. I would recommend him to all my friends and relatives. I come here now and then just to feel the peace and soak some of it in. I have asked my God to bless Davey Auto Sales, Glen and his father, and all who work there. To God be the Glory.
Carrie and Perry of Oshawa
It is not very often that you find truly outstanding service when deciding on a major purchase like a car or a house. You often have expectations, but end up being disappointed. We are pleasantly, and gratefully surprised with the time, effort and energy displayed by the staff at DAVEY AUTO SALES. They took the time to understand our situation, made thoughtful and supportive recommendations, while leaving us the dignity to explore all of our options. They treated us with a great deal of respect. As consumers, we shopped around and considered many other options outside of DAVEY, but came back to what we thought was the best service, and hopefully the best beginning to a long term, mutually beneficial relationship. THANK YOU to Shelley, Ralph, Steve and Glen for all of your time and assistance. You went above and beyond to help us, and we truly appreciate it!!
Mike from Oshawa
I wish to extend my sincere thank you and gratitude to the staff at Davey Auto Sales for their impeccable service and high quality, CLEAN used vehicles. Amazingly enough we were looking for a car for my girlfriend when we strolled onto Davey's lot, right away we could feel a big difference from those other guys, and you could tell that along with being extremely professional and knowledgeable that they had A LOT of fun here. We met with Steve who was extremely courteous and friendly and introduced us to what would be my future love…a 2006 Dodge Magnum with every option I wanted and more. When I got the nod that it was okay to purchase the vehicle for myself, I spoke with Brent and Steve who were able to address all my questions and concerns. The staff at Davey are definitely committed to the customer and they stand behind quality products, which I find to be a rare thing in this world. Many thanks go out to Steve and Brent, also Shelley, Glen, Jeff and the rest of the gang for their help on getting me into a car I absolutely LOVE. If you're tired of the rest then try the BEST at Davey! Thank you so much!
Hot Granny from Oshawa
Im sending you this message to let you all know your customer service was totally awesome . You are all a real tight family and I know you really do care about your customers . I love you all . My car suits me and I love her . She really looks good with my hot grani plates on her. As a customer, I will always return. Thank you all . Hot Grani
Wendy from Oshawa
A big thank you to Davey Auto and all of your wonderful staff for contributing to our purchase of the Jeep Compass and making it such an enjoyable experience. Continued success.
Susan from Oshawa
We are so happy with the wonderful service we received from the staff at Davey Auto, particularly Glen Davey. My husband and I went there not only because they were highly recommended, but my car was on its last legs and we needed something asap. Glen not only listened to our concerns but also showed us a car to suit our needs and our budget. We love our 2006 Nissan Sentra and will definitely recommend Davey Auto Sales.
Mary from Oshawa
Thanks to Glen and Shelley and Everybody for giving me a new kickstart on life!
Jeannie from Whitby
I wanted to take this time to share my Appreciation and give Thanks for the extra efforts, care and time that was taken in finding me a reliable, cost efficient vehicle that fit into my needs and that of my family. It has been just under a month since I have been driving my new Dodge Grand Caravan and I Love it! The kids and I have named her our red 'Cherry bomb'! This is the second vehicle that I have gotten from Davey Auto Sales. My last vehicle lasted 9 years and up until her final days, always was a pleasure to own. The relationship and personal care that the staff shows is very much appreciated in our World today where hands on and personal care dealings with businesses seem to be becoming a thing of the past. It is refreshing to deal with a business that takes pride, looks out for their customers and is honest! As well as a friendly and relaxed atmosphere…Glen gives free hugs! lol
Mira and Ravi from Oshawa
Just wanted to say "Thanks Very Much" , my husband and I love our 2010 DODGE CARAVAN very much. We appreciate your help in getting all the paperwork done and making the purchase as stress free as possible. It is so spacious, comfortable to drive and easy to handle plus with the excellent customer service we received at Davey's Auto Sales, made it all the more enjoyable. Keep up the GREAT SERVICE
Melissa and Josh from Whitby
Hello Stacey, Josh and I would just like to say thank you for all your hard work with helping us with our new car purchase, everything was done in just a timley and professional matter I would have to say I would definalty comeback to do business with you when it comes to car number two. Again thank you for being so quick and helpful with our purchase and I have to say the level of communication was great and found I could reach you at any time to answer any of my questions, Thank you!!!
Peter from Oshawa
Dealing with Glen was a great experience. He was very respectable, not pushy, and he was easy to get along with. I would definitely buy another car from Davey!
Scott from Kingston
To the staff at Davey Auto Sales and in particular Glen and Shelly, I cannot express how grateful I am for the work and dedication you put into helping me get the car I love! Your work and commitment to customers are a testament to the reason Davey Auto Sales continues to be the number one in CLEAN used cars! The process was completed with professionalism and the best service one can ask for when purchasing a new car. I cannot stress enough to those out there looking for a new car to get to Davey Auto Sales; They make the car buying experience truly enjoying!
Chad from Oshawa
Davey Auto Sales has stepped up to the plate for me in a huge way this week. I bought this truck about a week ago today and am leaving for a trip through the U.S. later tonight. Earlier this week I noticed a small oil leak under the truck and thought with the upcoming trip I should get that looked at right away. Glen hooked me up with his mechanic and he told me there was no way he could get to my vehicle until later the next week. That was no good for me and not nearly good enough for Glen at Davey Auto Sales. He got me into the shop the next morning and when they found it was an engine issue they found a specialist to get me back on the road the next day. I thank you Glen for all your help in getting me back up and running in time for my trip and would not hesitate to send my friends and family back to see you when it's time for a new vehicle. Cheers to you and the staff at Davey Auto Sales.
Jennifer from Oshawa
I was driving a 2003 Buick Rendezvous with 11 months left on my current loan. With the price of gas and the age of my car, I was looking to get into something a little more fuel efficient and much newer. I called the car place I had been dealing with for over 2 years and they were not willing to help me out at all until my current loan was paid in full, even if it meant keeping me as a customer for 3 more years. I saw the Davey Auto Sales ad in the paper and decided I would give them a call. My credit was/is not the greatest but I was hoping they could get me into something that was newer and cheaper. I phoned them on a Thursday evening and had a positive answer Friday morning. Saturday afternoon I went in to have a look at cars and took the ones I really liked for a drive, and had the absolute BEST experience ever! Everyone was so incredibly friendly and very welcoming. My sister and I took a car for a test drive with a gentleman named Mike who works there and had a BLAST! We laughed and joked as if we knew him forever. There were no "stranger like" feelings with anyone there, just smiles and warm welcomes from everyone. Shelley was great and worked with me to get into a 2010 Ford Fusion despite my less than perfect credit. Better still, I was able to get away from the company that was not willing to help me. Now, I'm driving a beautiful new car and rebuilding my credit. I cannot express my appreciation enough for the enjoyment in shopping for a car with the team that helped me as well as the great experience I had with them. I was not frowned upon, nor did they look down on me for my past credit issues. Rather, they took the time to help BETTER my credit situation moving forward. I would HIGHLY recommend Davey Auto Sales to ANYONE looking for a car.
Rob from Oshawa
I just wanted to say thank you for everything you have done to get me into my 2010 Ford Fusion. I will be back in the future for sure!!!
Amanda from Oshawa!
It is my pleasure to provide feedback regarding my experience purchasing a vehicle from Davey Auto Sales. Firstly, I would like to point out that I was in desperate need of a vehicle and with my credit background, I didn't feel very confident that I would be accepted for financing. Secondly, due to my hours of work I pulled into the dealership at 6:55pm just to find out what I need to start the application process. Mr. Davey filled out my application and answered all of my questions when technically, the dealership was closed up for the day. The very next day, I picked out my 2007 Pontiac G6 and three days later, I got to bring it home with me. I am very pleased with Davey Auto Sales and I will always remember the great customer service I received. I will come back!
John From Oshawa!
Wow..you want to talk about GREAT service? The engine in my old van was shot and I was without a car. I called Shelley to see if I could come in to see her, she told me to come right in. We filled out a credit application and she asked me what type of vehicle I wanted. The next day, she phoned me with an approval from the banks and gave me a few suggestions of vehicles I may like. I came back to visit and picked out a van. Glen took me for a test drive and pointed out some of the features of the van to me. I was set! A few days later, they had my van all cleaned and prepared for me. They even came to my house and picked me up. Save yourself LOTS of time and just call Davey Auto Sales…I'm telling you, I didn't feel any pressure at all, and I'm very happy with my Uplander. Thank you Shelley and Glen for getting me into a vehicle so fast without any B.S. Many thanks
Marie From Courtice!
If you are in the market for a used car..look no further, you have found the best place in town. We just purchased our second vehicle from these folks. First our Envoy and now our MKX. Trust me these guys take care of you. I know it is always a risk buying a used car…these guys take the risk factor out…they back their cars with their fantastic warranty.. Just have to say we are very happy campers….thanks.
Kathy from Bowmanville
My Ford is the second vehicle I purchased from Davey and hopefully it won't be the last. I was/am very pleased with the service I received from, especially Shelley Vesters for all the work she did for me in the way of getting financing. Kris was awesome with helping me picking out my Ford. Mike was my first salesmanwhen I bought my Dodge. All the people at Davey's are fantastic people and I tell everyone that is looking to buy a car…"GO TO DAVEY'S"
Brandy from Scarborough
I was starting a new business and was shopping for a small truck, after visiting several dealerships with no success in finding the right vehicle or service in finding what I needed I took my search to the net and was connected with Davey Auto Sales. Positive testimonials, website user friendliness and a great list of vehicles with details is what lead me to visit Davey Auto Sales. Once there I was in confident hands with Glen throughout the buying process. Glen took the time to explain details inside the 2008 Ford Escape I picked, ensured it was detailed and in great condition, offered an outstanding warranty and also excellent after sales customer service. Davey Auto Sales stands above the rest when it comes to understanding customers and their needs!
Brian and Patsy Muntz
I just wanted to thank the staff at Davey Auto Sales for the wonderful experience in buying our new truck. Their staff helped us make a right decision without any pressure. I got to meet the owners and family and the rest of the staff. I got a real sense of family pride in this business. Once again, thank you for your kind service. I will be recommending Davey to my family and friends.
Mcflurry
Could you please add this testimonial to our website. Thank you. Well I've had my car for a week now and I absolutely loving it!!!. I have purchased many used cars in my time, and I have to say, this is by far the best experience I have had to date. (It was worth the drive from Stouffville) Your knowledge, expertise and hospitality exceeded my expectations. Buying a car can be very stressful; Davey auto removed the Stress and filled it in with success, making my day a very successful one. A special thank you to Shelly and the other ladies in the office as well. It was nice meeting you all. Thank you for making my day a pleasant one. Thank you Glen for the Mcflurry, I will back for another one in a year or so. A Mcflurry and a car HEHE Thank you all
The St.Pierre Family!
During the past few weeks, I have been seriously considering purchasing a car. My husband and I have visited a number of dealers in the Oshawa/Whitby area, talked with salesmen, and test driven our top choices. Earlier this week, I stopped at your business and was greeted by one of your salesmen, Glen. Glen was friendly, helpful, and professional and I felt he was one with whom I wanted to do business with. After telling him what I wanted, he quickly found the right fit for us and a deal was quickly made. After the the 2012 Ford Fusion arrived on the Friday, my husband and I continued to complete the transaction in a most pleasant manner. The car was detailed, filled with gas, and Glen explained its features. He assisted us thoroughly and we truly appreciated his friendly and professional demeanor. Most folks generally have a negative experience in the car dealing experience I believe, however, salesmen like Glen made this positive for us. We will gladly recommend Davey Auto Sales to others. Dealing with Glen was the motivation to purchase a wonderful, exciting fully loaded car from Davey Auto Sales.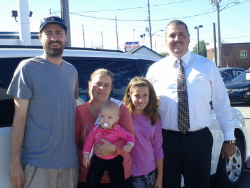 Cheryl and Gord
I just wanted to thank the staff at Davey Thank you Thank you Thank you!!!! I cant begin to explain how happy my husband and I are with our new to us Dodge Grand Caravan!! Kris and Shelly gave my family exceptional customer service! They went above and beyond in helping us with finacing and made it a very comfortable experience. We couldnt have asked for a better experience in buying a used car! I LOVE being a Minivan Mom!!!
Peter E. Mercado, C.E.T
On October 29th, 2013 we visited Davey Auto Sales Limited, located on 99 Bloor Street, East, Oshawa, up to this point we have done research on the type and make of vehicle we were looking for as well as approximate price, we were met by a very attentive young men, he introduced himself as Kris, "How can I help you?"… "Good evening Kris, my wife Eva and I are looking for a vehicle advertised by you on line, it is a 2011 Buick La Crosse CX with 27,136 Km. on it", "Yes, let me get the keys and go over it", car started, trunk lid open, hood open, "all looks in order, clean, no smoke, in pristine condition", "Care to take the car for ride?, why not…, during the test drive we discussed the scenario of having a 1998 Buick Le Sabre in good running order, E-tested and approved; we can only park one car in our condominium parking space, so if we can trade it in we would be glad, to which "Kris replied, we can work on it", as my wife stated: " Kris we are here to do business"…the rest is history, We purchased the car for cash, Kris took care of all details, license, ownership, plates transfer, etc. a happy and pleasant experience not only by Kris but also by the lady that completed the paper work, payment, receipt, etc. One item we happen to mention is, we like to do business in Oshawa, our home town, We can state with confidence that it has been a pleasure and lucky to have stopped by Davey Auto Sales Ltd. and Kris as our Coordinator, Thank you so much Kris and wish you success in your days and years to come, you are a natural, As an ISO Quality Consultant I recognize and know the value of good customer service, congratulations for a job well done and thank you
Bruce & Shelley Spence
A fantastic experience to say the least. We cannot say enough about, Jeff & Glen Davey. The Davey family and their staff were a pleasure to meet and deal with. We strongly feel that we have established a new friendship and as far as we're concerned,any and all of our future vehicle purchase considerations, will be made first, at Davey Auto Sales.
Terry
It has been a great experience dealing with the Davey-Auto sales team. Glen has been great, when I had a concern he set up an appointment right away to have it checked out. Everything has been handled in the most courteous and professional way possible. I have received the follow up call to see how everything was going and if there was anything I might need. I do appreciate how fast everything has been handled.
Nina
I purchased my first car, which turned out to be a gorgeous truck, from Davey Auto Sales. Every bit of research and stress leading up to my decision was instantly rewarded when I began my buying process with Kris McDonald from Davey Auto. From our first encounter over the phone when I was just inquiring about the truck, to our latest, has exceeded my expectations of customer service and been truly remarkable. My experience from beginning to end was friendly, genuine, professional, and handled with a real sense of transparency and attentiveness. I could not be happier with my purchase, or my interactions with the personnel at Davey Auto Sales. And I will be enthusiastically recommending Davey to my contacts and friends.
Thank you for being the company that you are and setting such a high standard. It really makes a difference.
Chris
My experience with Davey Auto Sales was nothing short of absolutely fantastic! From the second I walked into the office to the exciting drive off the lot, I received nothing but honesty. Kris McDonald and his team are definitely straight shooters…no huge mark ups..no run around on rates..they treat you with respect and give you their best upfront! Your Superior customer service and honest reliable staff have ensured that my family and I will be back in the future for our driving needs! Thank you for the beautiful addition to our family!!!
Overjoyed
Julie
From the moment walking through the doors you can tell this is no ordinary auto sales place. Buying a vehicle from Davey Auto Sales was a great, stress free and yes, even fun, experience. I felt they went above and beyond to get me into the car I wanted. Everyone there is friendly and welcoming. No pressure tactics. Shelley and Glen are the best! Will definitely recommend Davey Auto Sales to anyone looking for a vehicle and I won't hesitate to visit them again when I'm ready for the next car.
Erik Nielsen
I just wanted to send a quick email to tell you how happy I am with my 2013 Grand Caravan. It is such a pleasure to drive! Thanks also to Shelley for all the effort she put forward to close the deal and to Kris to address a few small details afterward. As with all the previous vehicles my family and I have bought from Davey's over the years, I'm sure I will be very satisfied with it. You always have a great selection of late model, clean and well equipped vehicles on your lot. So, with the combination of excellent staff and vehicles to match – as well as your focus on customer satisfaction – this makes your dealership stand head and shoulders above the others.
Pauline & Steve, Bowmanville
We came to Davey auto sales in search for a vehicle, but weren't exactly sure what we had in mind. Kris McDonald helped us find exactly what we wanted, and what met our needs as a family. Kris and the Davey auto sales staff went above and beyond for us, we are very happy with the service we have received, and will definitely buy from Davey again. The level of quality, honesty and care for their customers is outstanding. Thanks for everything!
Kathryn Macmillan
My experience in purchasing a vehicle with your company has been amazing! This is the first time I've purchased "my own" vehicle and it was quite exciting …..the level of customer service that I received from all of your staff was outstanding. It's obvious that everyone in your company works as a team – never once was I told that I would need to wait and speak to someone specific – everyone worked together.
I picked up my vehicle earlier this week and I'm loving every minute I have driving around town! I will certainly recommend your dealership to anyone I know looking for a vehicle.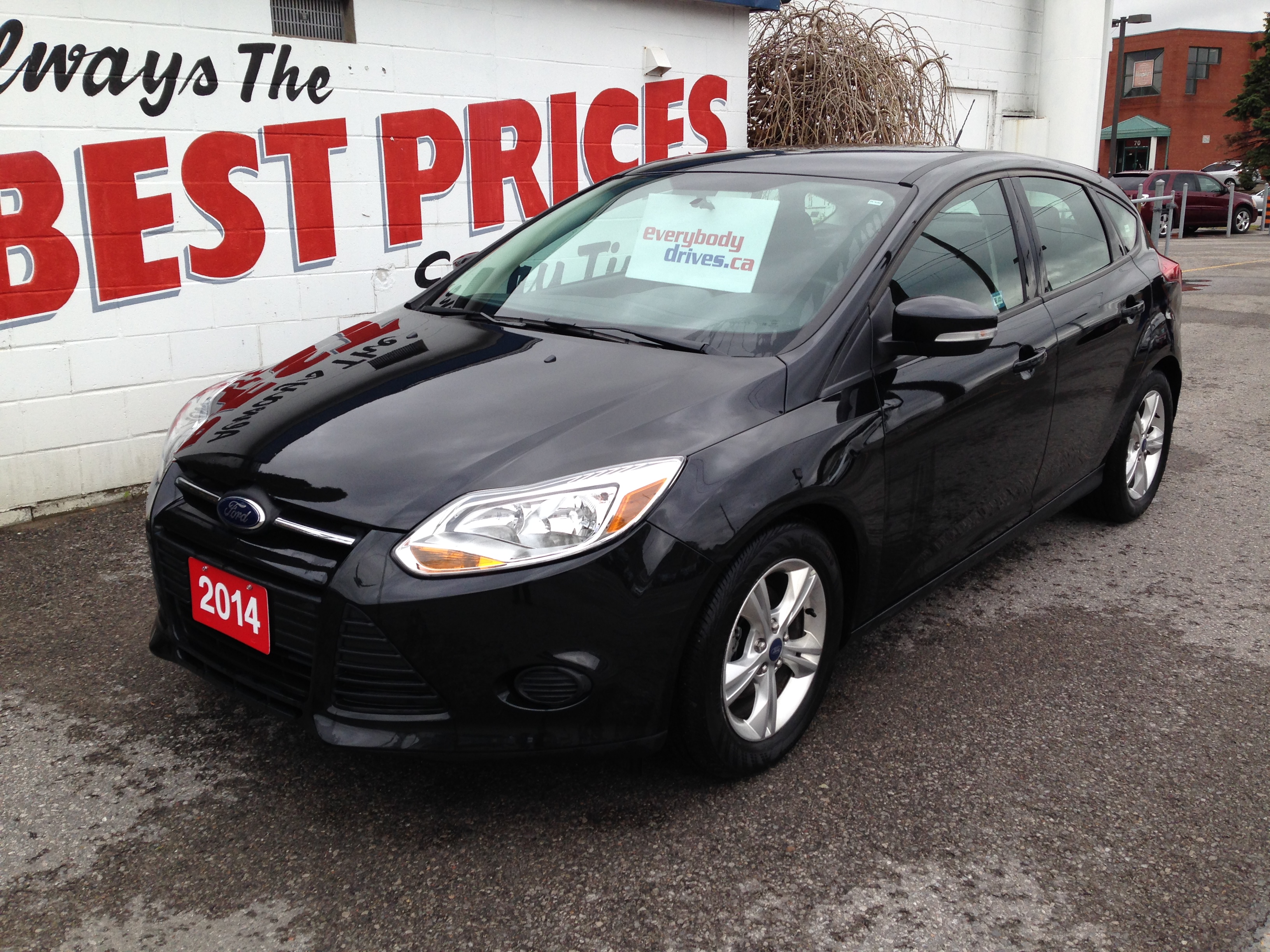 Davey Auto Sales
Davey Auto Sales turned out to be the perfect place for our family's second vehicle needs! Glen Davey made us feel comfortable and welcome from the moment my family and I got there. We knew exactly what we wanted when we got there and Glen was fantastic at explaining how to move forward and find the perfect vehicle for our needs with no pressure tactics, unlike some of the places we had previously visited. He was professional & knowledgeable and made buying a vehicle a great, stress free experience. We're very happy with our purchase and I will definitely recommend Davey Auto Sales to anyone looking for a vehicle in the future.
Aleem Mohammed
Thanks for following up with me, I was very happy with your professionalism throughout the buying process. Buying any used car comes with issues here and there which can come up, overall I'm very satisfied and have already recommended you to a few friends in the Durham region.
The Coppens Family
We were very pleased. We did not feel an overwhelming pressure to buy right away. We were treated wonderfully. All questions were answered and we were given all the information we needed to think over our decision had we opted to do so. I hate pushy salesman and had the opposite experience here. I will recommend you to friends and we will be back when our van needs replacing!
Sarah Kinglin
I wanted to say that I really appreciated you working with me. Thank you for not being pushy (like most sales people are) I appreciated that you respected my budget, and didn't try to sell me anything above what I was willing to spend. The service I received was friendly – from you and everyone in the office.
Thanks again for all your help!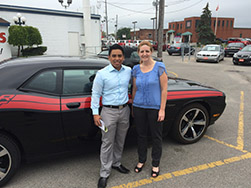 Frederick
I would like to take the time and send an email over a special thank you for the great sales service from Shelley Vesters in the purchase of my 2014 Dodge Challenger.
Shelley from the start and all the way through to handing me the keys was stellar in her professionalism and courtesy. She is punctual, determined and straight to the point, even though I live in Orillia in less than a week she managed to streamline the process through email and phone to get me great financing, complete the sale and have the car ready for me to pick up.
Through my journey in shopping for a vehicle it was not common to find a sales representative or dealership that really helps you through the process and makes you feel that the sale is in the best interest of both parties.
I would also like to extend a thank you to your entire staff as well, your dealership as a whole have provided me a great service and product. Upon my review of my new purchase over the last couple of weeks, the Challenger purchased for your lot is in great condition and drives fantastic. I will be referring friends and family over to your dealership in the future.
Read what our satisfied customers are saying about us…
Disclaimer
By submitting your email address or phone number, you allow us, Davey Auto Sales, to include you on our contact lists to send you information about our products, services and promotions. You may revoke consent at any time by clicking on the "Unsubscribe" link in your email.